Blue Bell Creameries, an ice cream manufacturer based in Brenham, Texas, produces a variety of frozen products including ice cream, sherbet and frozen snacks.  As a supplier to Blue Bell, ABX was asked to develop a package utilizing flexographic surface printed inks on white opaque OPP film for frozen novelties. ABX's trademark combination of expertise, innovative thinking, and collaboration created a winning solution, fast.
The Problem: The Search for a Single Supplier
For many companies, multiple suppliers for any resource, including packaging, often can be both inefficient and cost prohibitive.
ABX was a supplier of much of Blue Bell's frozen ice cream novelties packaged in films, but not all of the products. Blue Bell desired a single supplier for their frozen novelty lines that utilized film packaging—ABX. But first, ABX needed to match the former supplier's capabilities without sacrificing quality, or without interrupting fast-paced production lines for one of the country's top ice cream manufacturers.
The previous supplier printed these ice cream novelties via rotogravure.  ABX needed to match the print quality with its flexographic method, especially in process areas. Additionally, the ABX team needed to develop an ink system with crisp printing while eliminating ink pick off on the Blue Bell packaging lines. This solution needed to maintain the seal integrity of the package. The complexity of Blue Bell's packaging lines also added another layer of consideration to the mix.
ABX needed to find a working solution fast to ensure a seamless, successful switch to a single film supplier. Shelf appeal, performance, and machinability were all primary concerns.
The Solution: Innovation, Collaboration, and a Winning Packaging Result
ABX mobilized its experienced technical team, including Product Development and Graphics. This solution required ABX to collaborate closely with the Blue Bell marketing and production team. The close partnership allowed both sides to create design solutions that were flexo-print friendly.
To solve the ink issue and meet the challenging needs of the Blue Bell packaging lines, ABX also developed a unique ink system that provided excellent adherence to the printing substrate. This system also offered good machinability on the Blue Bell packaging lines.
Best of all, ABX developed this successful solution quickly, allowing Blue Bell to make the switch without any lag time.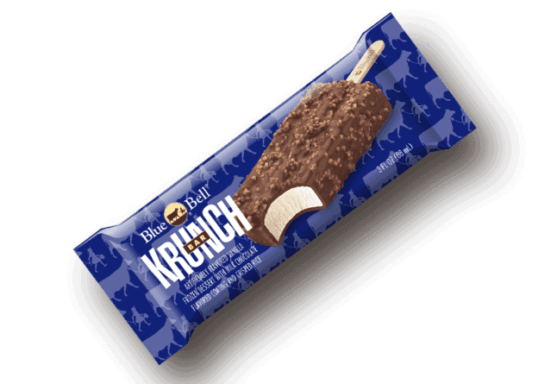 Packaging Solutions Require Strong Relationships
Because of a collaborative, efficient approach, the ABX team created a solution that kept Blue Bell's lines running without interruptions. Even with a switch from roto to flexo printing, customers received a product packaged in high quality, high-performing materials that also maintained a distinct shelf appeal.
The success of this project was based on some key tenets of ABX's solutions and approach: work closely with customers to understand their needs, and treat them as true partners to work collaboratively and collectively on solutions.
Partner with ABX to Develop High-Performing, Sustainable Packaging Solutions
From distinctive design to maximum performance, the ABX team will work with you from start to finish for a winning packaging solution. We're dedicated to help you find the effective and sustainable packaging solution that works for you. Let's innovate together. Contact us to learn more.