Advanced Barrier Extrusions, LLC ("ABX") is a leading designer and manufacturer of cast co-extruded films primarily for food and medical packaging companies. ABX specializes in films for forming & non-forming, vertical form fill & seal, and rollstock applications, and is excited to announce its latest innovation, Recycle Ready film, which is targeted to launch later this year.
According to Eric Pacyniak, Director of Sales at ABX, "The journey of developing the Recycle Ready film has been a long but exciting one. Our R&D team has been working with Dow for over two years to develop a film that meets the product and packaging performance requirements and achieves convenient recyclability for the consumer. These films will be available in both breathable and high barrier versions.  They are designed using a variety of polyolefin (PE) based resins with EVOH layers in order to maintain the same high-performing multi-layer quality as the rest of the ABX's films, while being accepted in recycling streams that are widely available today."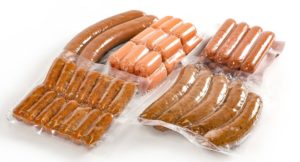 "As a growing business in the packaging industry, we are mindful of our impact on the environment, and we are taking steps to reduce our own footprint and help our customers to reduce theirs," states Larry Goldstein, President of ABX. "The innovative development of Recycle Ready options is just one of many steps we're taking towards our broader commitment to sustainability." ABX also joined the Sustainable Packaging Coalition ("SPC") in 2019, reflecting the company's commitment to working with other sustainability-focused manufacturers to develop environmentally friendly packaging solutions that do not compromise performance.
ABX considers itself a key player in the fight to close the loop for the plastic waste stream. "For ABX and its customers, the technological barriers that once held back recycling flexible films of this kind are now a challenge of the past," declares Shwu Yi Patulski, Technical Manager at ABX. The Recycle Ready films have been submitted to the SPC's How2Recycle team and are pending approval. The How2Recycle program works to educate consumers on a variety of stores and locations that accept these films for recycling. Visit How2Recycle to find a store drop-off location near you.
About ABX (www.abxpackaging.com)
Located in Rhinelander, Wisconsin, ABX is a leading flexible packaging manufacturer of high barrier forming web films primarily for the North American protein, cheese, and specialty food markets. ABX's multi-layer cast films require a high level of manufacturing complexity and are critical for shelf life extension, spoilage reduction, and food safety. The company serves a variety of high growth customers with a diverse base of technically complex, custom films and is benefiting from several consumer megatrends.  View our company overview video here.