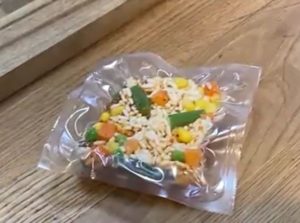 During these difficult times as the spread of COVID-19 is shaking communities near and far, there are businesses deemed "essential" that are working hard to maintain production of daily necessities. ABX is fortunate to be in this "essential" category, providing packaging films for food and beverage products, and we are also excited to be a component of another company's community support.
Jack Aronson of Clean Planet Foods (and founder of Garden Fresh Gourmet), expedited production of a new microwavable meal that is packaged in ABX high barrier peelable films, vacuum sealed and HPP'd –  a process that naturally kills foodborne pathogens while extending the shelf life of foods. All profits from the sale of these meals are going back to the community to provide free meals to schools and non-profit organizations, helping those in need during this time of crisis.
ABX is proud to be a supplier for this cause. "This is the time for businesses to come together and do what we can to help others," states Larry Goldstein, CEO of ABX.
View the full interview View the full interview here.
About ABX
Located in Rhinelander, Wisconsin, ABX is a leading designer and manufacturer of cast co-extruded films for Forming, Non-Forming, Vertical Form Fill & Seal, and Rollstock films for packaging companies. End markets served include proteins, cheeses, healthcare, bakery and specialty food markets. ABX manufactures a wide variety of specialty films ranging in thickness from 2 to 13 mils. We offer a variety of stock options and have the capability to manufacture materials specific to your needs. With capabilities of up to 11 layers, the possibilities are immense. View our company overview video here.